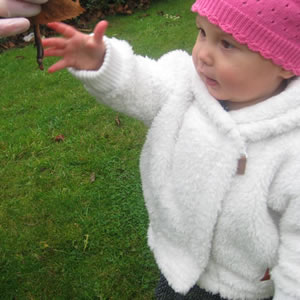 Our baby room is a home-from-home environment with soft furnishings, carpeting, background music and separate bedroom area, all creating a warm and cosy environment where the children are stimulated and nurtured. Staff take time to get to know the parents and to learn the children's daily routines so that they can follow them within the nursery, making the transition between home and nursery easier for the children and the parents.
Each child has their own learning story where the child's key worker keeps a record of their development and interests so we can provide a range of activities appropriate to each child's age and stage of development. We follow the national curriculum pre-birth-3.
The babies have a separate sleep area, which is attached to the baby room, providing them with a peaceful place to rest whilst still being secure and cared for. A separate changing area is also attached to the room with each child having their own basket to store nappies, wipes, cream etc. which are brought from home.
Fresh air and outdoor play is very important to us and the babies have their own garden area which leads directly off the playroom so they can explore and play outdoors, as well as sleep outdoors in good weather, without being disturbed by the older boys and girls. We have triple buggies so that the babies can enjoy regular walks and outings.