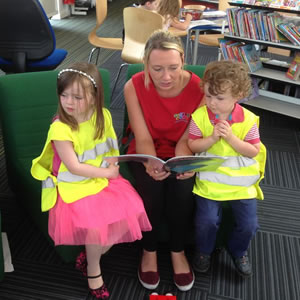 Our large and stimulating room is filled with children's brightly decorated displays showing planned and child centred themes and topics. Resources are set out at child level to encourage social interaction and free flow independent play.
The Big Ted staff are mature, experienced and knowledgeable. They are there as a constant support to the children's learning. They follow A Curriculum for Excellence which is the national curriculum and provide a wide variety of themes, topics and activities, all of which are specially formulated to create and stimulate interest and knowledge. The staff focus on child-led responsive planning, which means that the child's developmental needs, as well as their interests, are taken into account when formulating learning experiences.
Each child has their own key worker and learning story. This enables us to constantly observe and monitor the children's progress and in partnership with parents we are able to track progress and encourage and monitor learning. We promote partnership with parents and as well as receiving daily feedback, we have parents evenings, curriculum information evenings, summer barbeque, as well as welcoming parents into the nursery for play time or even to share a skill, talent or to talk to the children about their jobs.
Outdoor learning is important to us and the children have their own access to the garden. During activity time children are encouraged to free flow between the outdoor and indoor areas. We have many outings and participate in the forest schools project (see more on our outdoor learning page). We also offer extra curriculum activities such as Enjoy-A-Ball, Sparkle Arts and swimming lessons.