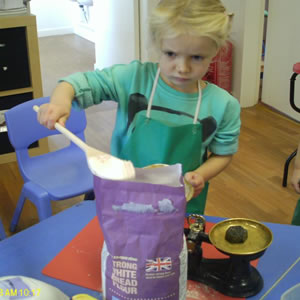 The Tweenie room is a spacious, well adapted and stimulating environment, where age appropriate resources are at child level to encourage imaginative play, whilst promoting independence. Our caring, experienced, long serving staff makes sure that each child is met with a warm welcome and provided with age appropriate activities, in a safe and secure environment.
Through long term, short term and responsive planning, activities are carefully formulated to ensure that the children are learning, growing and reaching new goals through fun-filled exciting play experiences, which are in line with the national curriculum pre-birth-3. Children's progress is monitored through supporting, observing and planning and each child has their own learning story and key worker.
At this important stage of a child's development they learn to care for themselves as well as developing social skills. Encouragement and support from the staff is provided towards toilet training and personal hygiene. Group play activities such as baking, construction, arts and crafts, story-telling and imaginative play encourage children to develop social skills such as caring, sharing and interacting with others. This helps children develop self esteem, confidence and to form friendships
The children spend lots of time outdoors and have direct access from their playroom to the garden, where they are able to participate in lots of fun, exciting, energetic play.